Measuring your shade area
Using a steel tape measure, measure the distance between the fixing points . Our shades sails are custom-made to measure and therefore the fixing points need to be measured precisely to ensure the perfect fit and an exact quote.
Take your measurements from mounting point to mounting point as shown in the graphic.
————————–                 ——————–       –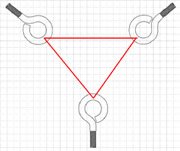 Square and Rectangular shade sails:
For four sided shapes, we will need measurements for each edge of the Shade Sail, plus both diagonals. Using this method of measuring will enable us to accurately recreate your shape in our CAD design program, without you having to measure any angles!

———-     —————–
Triangular shade sails :
For 3 sided shade sails (no diagonals) we will only need measurements for each edge of the Shade Sail. Our CAD design program will do the rest